Used cell phones, refurbished iPhones and Androids and open boxes like new!
Quality &
Eco-responsibility
All our phones are 100% functional and they are also guaranteed for 6 months after purchase. The objective is to reduce the ecological footprint of the phone trade by finding them a new owner.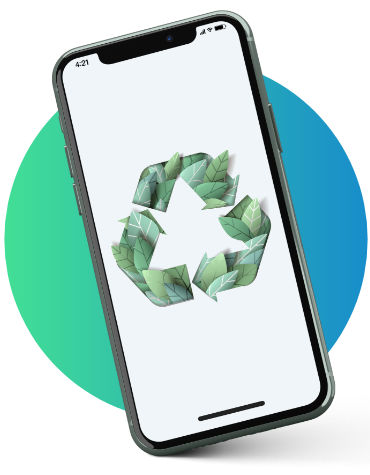 All our phones come from companies that change their devices to more recent ones. As a result, Recycell makes sure to give them a second life; a much more eco-responsible alternative than the dump.
In addition, we make sure to recycle non-functional devices and broken parts by bringing them to local ecocentres, where precious metals are recuperated.

We buy used phones in significant quantities from several large companies

All phones are thoroughly inspected, cleaned, and refurbished if needed.

You get to enjoy an excellent phone in an almost new condition for a fraction of the price!
Physical evaluation of the product (scratches)
Almost brand new condition.
Subtle scratches, hardly noticeable.
Various scratches or slight traces of impact.
Several scratches or traces of impact.
Compromised physical condition, advantageous price.
Trop heureuse d'avoir pu trouver une compagnie fiable, québécoise, qui recycle les cellulaires! Et en plus, à un prix équivalent aux compétiteurs qui n'ont pas la même conscience… Et, livré ultra rapidement !
Téléphones en excellent état à une fraction du prix, livraison rapide et service à la clientèle impeccable! Ici nous en sommes à notre 5e appareil acheté chez Recycell au cours des dernières années et toujours aussi satisfaits. En cas de problème Luc le propriétaire nous répond très rapidement et nous propose une solution. Je recommande à tout le monde!
JUST WOW, perfect services, order yesterday, received the goods this morning, hand delivery, hard to beat that.
Excellent service. Easy to order, prompt delivery, excellent support. I have now order two phones from this company. Love the idea of reusing lightly used phones

Free delivery and returns
Shipping and returns are free on all purchases, regardless of price. (Canada)

Shipping delay between 1 and 4 working days after purchase.